By Paul T. Finger, MD
Description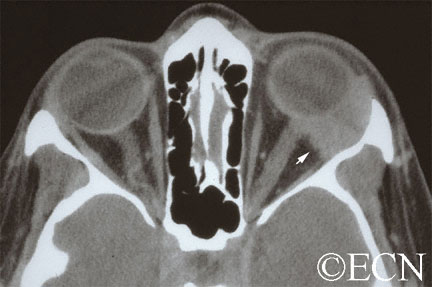 Adenoid cystic carcinoma is a type of cancer that affects glandular structures. Around the eye there is a lacrimal (lac-kree-mall) gland that makes tears. Orbital adenoid cystic carcinoma usually occurs in patients 20-50 years old.
Symptoms
When an adenoid cystic carcinoma of the lacrimal gland grows, it typically pushes the eye down, towards the nose and forward. It can cause bulging of the eye (called proptosis). Another characteristic of adenoid cystic carcinoma is that it also invades local nerves causing pain. Therefore, pain and bulging of the eye are the most common symptoms of adenoid cystic carcinoma of the lacrimal gland.
Diagnosis
A complete eye examination with a clinical history and ophthalmic examination are crucial to the diagnosis of adenoid cystic carcinoma of the lacrimal gland and orbit.
CAT scans, MRI's and ultrasounds are also helpful in determining the diagnosis. When the eye cancer specialist sees a well-defined tumor in the superior-temporal (upper – outer) part of the orbit, that may have eroded into adjacent bone and/or extend into the orbital apex, he or she should suspect the tumor might be an adenoid cystic carcinoma.
Other tumors to consider include: benign mixed tumor, adenocarcinoma, dacryoadenitis, or other processes affecting the lacrimal gland. Often times a biopsy is need to confirm the clinical diagnosis.
Treatments
When possible, an adenoid cystic carcinoma should be totally removed. This usually requires a surgery called a lateral orbitotomy. Unfortunately, total removal is often impossible due to the tumor's size, shape, and presence of invasion. Should the adenoid cystic carcinoma be found to have a capsule, and should your doctor be able to remove it within its "capsule," total excisional surgery offers the best prognosis.
However, in many cases the adenoid cystic carcinoma extends beyond the capsule making removal of the entire adenoid cystic carcinoma nearly impossible. It may require removal of the orbital contents, bones and adjacent structures. Due to the poor (local control) results from this type of extensive surgery; combinations of surgical removal, regional chemotherapy and local radiation therapy may be offered as an alternative.
Additional info