By Paul T. Finger, MD
History
A 67 year old male was referred to The New York Eye Cancer Center with a 18 x 18 mm base, and 9.3 mm high dome-shaped tumor in his left eye.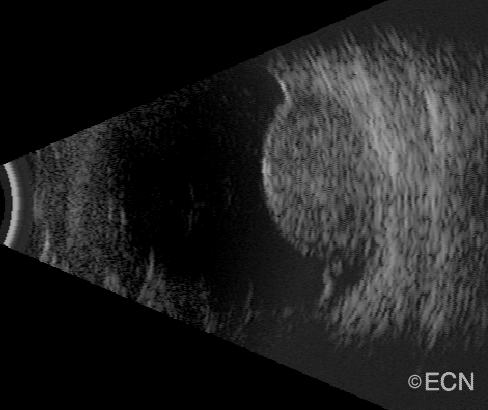 Note
This is a large file which may take up to 5 minutes to download (at 56K). If you are using dial-up Internet access, you will see a static image for 5 minutes.
Note the "twinkling" within the tumor.
This is caused by blood circulating within the melanoma. You can use this observation to differentiate between benign and malignant tumors. In general, malignant tumors have an active circulation as compared to "pseudo-melanomas" like a choroidal hemorrhage. The "twinkling" represents intrinsic vascularity or blood flow. Blood flow and vascularity will be found to diminish after radiation therapy.
Impression
Large Choroidal Melanoma
Related Links