By Paul T. Finger, MD
Innovation
Dr. Finger's patented, expandable orbital implant will have the capacity to be enlarged as the surrounding orbital tissues atrophy. An enlarging prosthesis should help correct ptosis (drooping eyelid), enophthalmos (sunken eye) and motility (movement). Clinical trials will be needed to evaluate this effect on movement and cosmetic results for patients. The movie demonstrates the capacity of the implant to expand. In practice, the implant will be inflated and allowed to stay in its expanded state. Dr. Finger is interested in finding a company to produce this patented implant.
Advantages
They cannot become infected.
They are not made of nor contain calcium (that can affect subsequent imaging or radiation treatment). The implant sits in the orbit and behind the ocular prosthesis.
General Information About Enucleation
Volume-Replacement After Enucleation
Enucleation ("removal of the eye") is typically recommended for patients:
1. With a large intraocular eye cancer which cannot be destroyed or removed by other methods.
2. When alternative treatments are likely to leave the patient with poor or no useful vision.
3. With a blind and painful eye.
4. When a patient requests removal of the eye as treatment for their eye cancer.
Current Types of Implants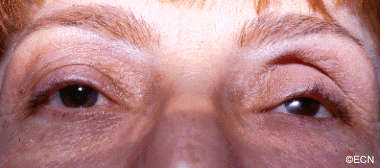 Implants are used to replace the volume lost by the enucleation procedure. 
When this type of implant is placed in the orbit, it is surrounded by the extraocular muscles and soft tissues. After it heals, the prosthesis (which looks much like a giant contact lens) is placed over the implanted ball. The ball-muscle complex functions much like the ball in a ball-in-socket joint. Therefore, when the implant moves, the overlying prosthesis also moves.
Non-integrated implants:
The can be made of glass, PMMA, silicone (PMMA plastic is the most common)
These are the least expensive
They are inert, meaning they do not interact with orbital tissues
They will not attach to orbital tissues, so they are more likely to move or become displaced within the orbit.
Integrated implants:
1. Pegging of the implant provides increased movement.
2. Larger implants can be used.
3. The muscles can be directly sewn to the implant.
For more information on enucleation you can go to a medical library, or click and order a copy of our comprehensive review of:
"Enucleation" by Moshfeghi DM, Moshfeghi AA, Finger PT. Survey of Ophthalmology 2000:44:277-301.
Related Links