By Paul T. FInger, MD
Description
Squamous conjunctival neoplasia (SCN) is most commonly found in older white males (76%). The average age of patients affected by SCN is 56. This tumor, said to make up 14% of all primary ocular and orbital tumors is related to sun exposure. Sunlight, particularly ultraviolet-B (UV-B) radiation can cause DNA damage, mutations, and cancerous cells. Though human papillomavirus -16 has been found in conjunctival tumor specimens, it has not been proven to cause this tumor. The immunosuppressed (e.g. elderly, HIV positive) are particularly vulnerable. When conjunctival squamous carcinoma occurs in HIV positive patients, it can be particularly resistant to treatment.
Symptoms
Patients notice a white or yellow-white tumor on the surface of the eye (often with extension onto the cornea).
Diagnosis
Squamous conjunctival neoplasia tends to be found between the eyelids (interpalpebral space), and at the limbus (border of the white sclera and clear cornea). This tumor can extend onto the cornea, around the limbus, and rarely into the eye and orbit. When the tumor extends onto the cornea it can be avascular and opaque in appearance. Commonly, squamous conjunctival neoplasia will contain characteristic corkscrew-shaped blood vessels.
Nodular Squamous Conjunctival Carcinoma:  There is also a nodular type that is  circumscribed, rapidly growing, and invasive. Since this type more commonly extends beneath the conjunctival epithelium, nodular tumors exhibit increased metastatic potential. All large squamous conjunctival cancers should be examined with high frequency ultrasound. This technique can be used to determine if the tumor has invaded the eye or orbit.
In the image on the middle right, note that a few corkscrew-shaped blood vessels on its surface (arrow).
Diffuse Squamous Conjunctival Carcinoma: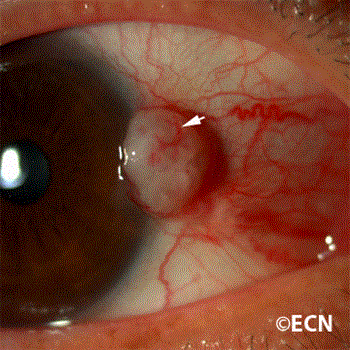 There is a diffuse variant that can masquerade as chronic conjunctivitis. Tumor thickening occurs late making it difficult to diagnose. Therefore, a conjunctival biopsy should be considered in cases of conjunctivitis lasting more than 3 months.
The diagnosis of malignant squamous conjunctival neoplasia is typically made by biopsy. Like most squamous epithelial tumors, invasion beneath the epithelium into the substantia propria defines these lesions as carcinoma. This is because, when the tumor is contained within the epithelium it does not have access to the lymphatic system or metastatic potential.
Treatments
Every suspected squamous conjunctival cancer should be photographed and AJCC staged prior to biopsy or excision. Surgical excision (alone) has been associated with high rates
of recurrence. This is because the tumor's edges and deep margins are either gray or the same color and the sclera and thus difficult to determine. When the tumors edges are clear and avascular, it leads to a false sense that the tumor is smaller than it is.
Local superficial freezing of the tumor bed, sclera and adjacent conjunctiva (cryotherapy) has improved local control and decreased the incidence of tumor recurrence. Other centers have added radiation therapy to decrease tumor recurrence.
However, topical chemotherapy is becoming the most common method of treatment.
While a large clinical trial is needed to compare the effectiveness of topical chemotherapy to excision and cryotherapy, Dr. Finger now uses topical chemotherapy eye drops to avoid surgery (in most cases).
Additional info
Local Spread:
Intraocular spread of squamous conjunctival neoplasia is rare in developed countries (< 5% of cases). When intraocular penetration occurs it is typically through the limbus. Signs include neovascularization of the iris and cornea as well as glaucoma, and peripheral anterior synechiae. Dr. Finger has found high frequency ultrasound to be particularly helpful in these cases.
High frequency ultrasound is particularly helpful in these cases. Positive findings include: thickening of the ciliary body, uvea and blunting of the iridocorneal angle. Intraocular penetration is typically treated by deep cryotherapy, eye-wall resection or radiation.
If the orbit is invaded, there is a risk of spread into the sinuses and brain. Such invasion is said to be the most common cause of death related to this tumor. When squamous conjunctival neoplasia metastasizes beyond the eye and orbit, it can either be found in the regional lymph nodes (preauricular, submandibular, and cervical), or in the lungs and bone.
In general, early detection allows for removal or destruction of these tumors with excellent local cure rates.
Risk Factors:
Fair Skin
Tendency to Sunburn
Outdoor Occupation
Living Close to the Equator
History of Actinic Skin Lesions
Xeroderma Pigmentosum
Immunosuppression
Male Gender
Older Age
Related links
---