By Paul T. Finger, MD
Description
Intraocular metastasis is the most common malignant intraocular tumor and may occur in as many as 10% of patients with metastatic cancer. Most of these tumors go undetected unless they affect vision and become symptomatic.
Metastatic breast cancer is the most common in women and lung is the most common in men. Other primary sites include prostate, skin, kidney, colon and thyroid. Leukemia and lymphoma also occur in the eye.
Less than 10 percent of intraocular metastatic tumors are located in the anterior part of the eye.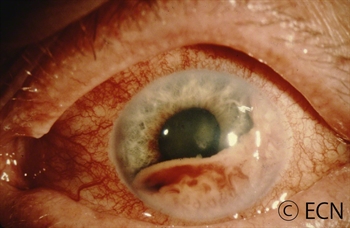 Symptoms
Most patients with iris metastasis present either with a visible cance (see photographs) or tumor-related "secondary" glaucoma. Glaucoma can cause foggy vision, halos around lights and headaches (brow aches). These "symptomatic" patients that come to or are sent for ophthalmic examination.
Most iris metastasis patients either have a history of cancer or are found to have a primary source of the tumor (on systemic examination). It is important to perform complete systemic survey when intraocular metastasis is suspected. This examination should include radiographic imaging (staging).
The New York Eye Cancer Center protocol involves whole body, scalp-to-toes PET/CT.
The reason is that though most intraocular cancers come from the lung and breast, there exist multiple less common "source" primary cancers. PET/CT evaluates the entire body. Consultation with an adult or pediatric medical oncologist should be obtained.
Despite systemic evalutions, sometimes patients will have no detectable primary cancer. Most of these tumors will later be found to originate from the lung (particularly in men). In these cases (where no primary cancer is found), the intraocular tumor becomes the only tissue that can be used to direct the search for its site of origin. Thus, biopsy of an anterior segment metastasis may become necessary. Biopsy techniques include: fine-needle aspiration biopsy, transcorneal tumor excision, and the relatively safe "Finger Iridectomy Technique (FIT)."
Treatments
Advanced anterior iris and ciliary body metastases can be difficult to manage. Radiation therapy alone or in combination with intraocular anti-VEGF drug therapy may be used to control the tumor, protect vision and conserve the eye. If left untreated, metastatic cancer in the iris can cause glaucoma and a blind painful eye. Thankfully, symptomatic anterior segment metastases are much less common than choroidal metastasis.
When the diagnosis of intraocular metastasis is made or suspected, eye cancer specialists always dilate and examine both eyes. This is because metastases can be both bilateral and multifocal. Computed tomography or magnetic resonance imaging of the brain and lungs should be performed due to a high incidence of concurrent metastases.
Related links