In 2014, the First Eye Cancer Working Day was hosted by The Curie Institute in Paris, France. There, we decided to develop a Collaborative Open Access Surgical Textbook (COAST) aimed at offering guidance and international outreach for ophthalmologists in countries without eye cancer specialists.
The resultant 5-year effort was spearheaded by Drs. Sonal Chaugule, Santosh Honavar and Paul T Finger. Supported by The Eye Cancer Foundation (http://eyecancercure.com) and published by Springer Nature; The Surgical Ophthalmic Oncology: A Collaborative Open Access Reference, should be described as an easy-to-use, open-access surgical textbook supported by surgical videos. It provides surgical guidance to all the general ophthalmologists currently treating eye cancer patients in unserved and underserved countries.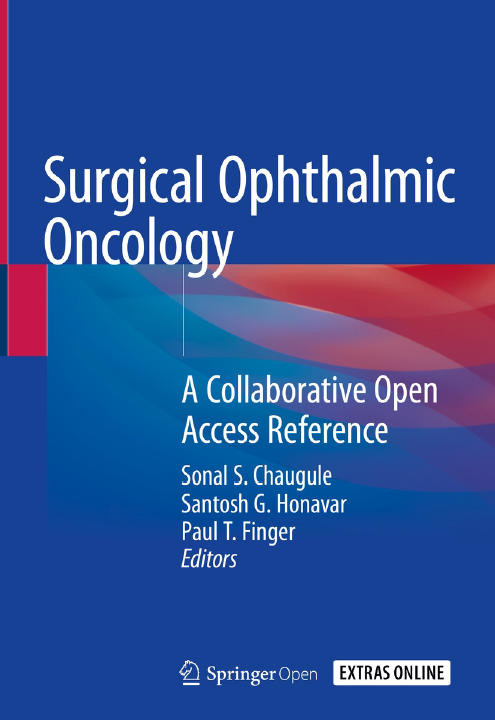 In addition, this textbook can be used for surgeons, fellows, and trainees around the world who deal with these diseases in their patients. For these physicians in these areas who lack the advanced technology and instrumentation to diagnose and cure diseases, this comprehensive textbook meticulously covers various surgical techniques and provides videos needed to manage different eye cancers.
This text includes chapters that discuss eyelid tumors, conjunctival and corneal tumors, intraocular tumors, enucleation and exenteration, ophthalmic radiotherapy, and ocular pathology. Throughout the chapters, one will find 84 color pictures, 4 black and white illustrations, and relevant high-quality videos. For example, these videos allow the reader to review specific surgical steps in real-time, allowing the reader to benefit from the pooled knowledge of three renowned ophthalmic oncologists! These chapters also address diagnostic indications as well as pre and post operative concerns, truly serving these physicians well as they may use this valuable learning tool in providing the best, most efficient patient care that they possibly can. Lastly, this book ends with a section on ophthalmic pathology, where readers can learn the guidelines for specimen collection and transport as well as the interpretation of the pathology report.
A valuable and unique resource for ophthalmologists working in underserved areas to provide the best quality care for their patients who suffer from eye cancers.
Order online here!